Show me the Houseboats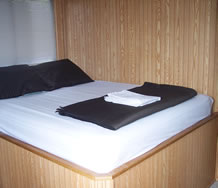 The sleeping area.
Fun 'N The Sun Houseboats feature private sleeping quarters with queen sleepers (see floor plans). Our boats let you include family and friends in your vacation plans. If you want, invite family and friends to vacation with you. That's no problem because your craft is designed to accommodate them in relative luxury, with their own private sleeping quarters and bath.
See how easy it is to pilot your own vacation cruise.